TITLE: Everless
AUTHOR: Sara Holland
SERIES: Everless
RELEASED: January 2018; HarperTeen
GENRE: YA Fantasy
FORMAT: Physical
KEY INFO: Time as currency, court intrigue and secrets, romance
REPRESENTATION: female protag
CONTENT NOTICES: c*tting to withdraw blood with some graphic descriptions
amazon // book depository // goodreads
Time is a Prison. She is the Key.
In the kingdom of Sempera, time is currency—extracted from blood, bound to iron, and consumed to add time to one's own lifespan. The rich aristocracy, like the Gerlings, tax the poor to the hilt, extending their own lives by centuries.

No one resents the Gerlings more than Jules Ember. A decade ago, she and her father were servants at Everless, the Gerlings' palatial estate, until a fateful accident forced them to flee in the dead of night. When Jules discovers that her father is dying, she knows that she must return to Everless to earn more time for him before she loses him forever.

But going back to Everless brings more danger—and temptation—than Jules could have ever imagined. Soon she's caught in a tangle of violent secrets and finds her heart torn between two people she thought she'd never see again. Her decisions have the power to change her fate—and the fate of time itself.
Alchemy. Sorcery. Time-bending. Mythology. Dangerous secrets. Rich. Poor. Love. Death.
Everless has it all.
Everless is the first ever physical ARC I've ever received – won through a giveaway on Goodreads. It's a book that I had heard a lot about amongst other book bloggers but wasn't really sure if it was my kind of thing. I'm not well versed in the world of YA Fantasy and tend to stay away as I often find them filled with cringey tropes. However, I took a bit of a leap of faith with Everless and I'm really glad I did because I enjoyed it a lot. Usually, it takes me up to 2 weeks to read a book but I steamed through Everless. I couldn't put it down and read it at every spare moment I had – on public transport, in queues, on the toilet, before bed, waiting for food to cook – it definitely had me hooked.
Set in the richly written fantasy world of Sempera, we follow the female protagonist, Jules Ember, as she returns to Everless against her fathers wishes out of financial desperation and becomes rapidly enveloped in a dangerous world of political games, love, deceit, and lies. Time is even more of a precious commodity in Sempera as it is integral to the economy – everything is paid for using time and if you don't have enough coin, then you better get yourself to the time-lender to have a day, a month, a year bled in order to pay for your food, your clothes, your home. Poor people, like Jules Ember, have to watch as their loved ones bleed themselves dry of their time in order to survive in the short-term. But not everyone is short of coin. Rich nobles like the Gerling's are not just rolling in time and money, but have it coursing through their veins, using the sacrifices of the poor to frivolously extend their own lives. Theoretically, they could live forever, like the Queen of Sempera who has lived for centuries off the stolen time of the poor.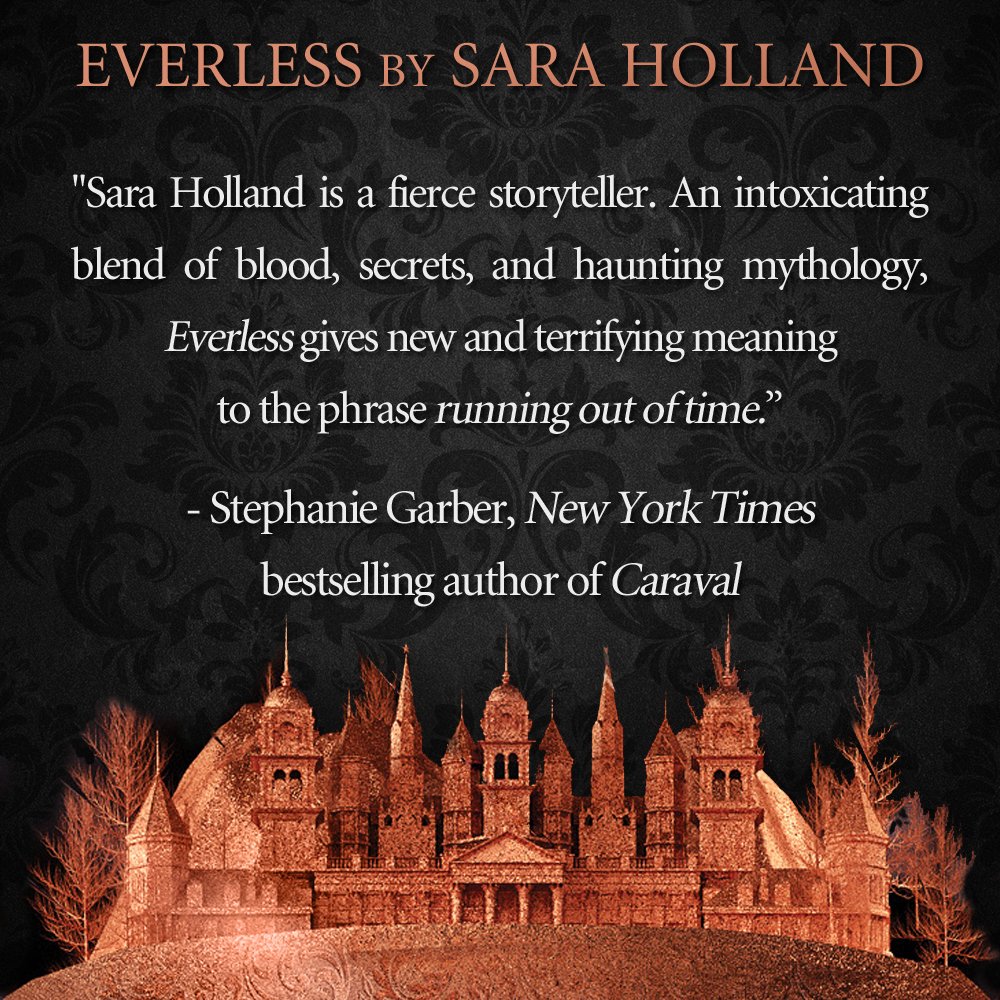 As a reader, I became quickly immersed in the fascinating world that Sara Holland had created, long before Jules even steps foot in Everless where the real drama begins. The idea of time as currency is not exactly a new idea, any Marxist will tell you that, but I really enjoyed the way that Holland adapted the idea to fit in this fantasy setting and blended it with some intriguing mythological stories about the Alchemist and the Sorceress that lead to all manner of twists and turns along the way.
Although I completely managed to call the ending, I was still hooked up until the very last page as Holland included enough material that really picked up the pace, kept me guessing about certain things, and made me care about the characters. I wish that we would have been able to spend more time with some of the other side characters like Lora, Hinton, and Liam, but hopefully, we will in the next book! Sadly, Holland doesn't manage to avoid many of the common tropes that I would have liked to have not encountered – love triangles, the chosen one, the golden boy – but again, I found the rest of the book enjoyable enough that they weren't overly offputting. However, if you are a person who has read a lot of YA Fantasy then you might struggle to be as invested in the entire premise of the book. 
If you liked books like An Ember in the Ashes by Sabaa Tahir, Starborn by Lucy Hounsom, and A Game of Thrones by George R.R Martin, then I would definitely recommend reading Everless. I personally really enjoyed it and think it's a great start for a debut novelist. It only took me 3 days to read at a pace of 100 pages a day, which is unheard of for me, and I think that Holland introduced enough interesting takes on existing themes. Overall, I'm super thankful to have received this in a giveaway and to have read it as my first book of 2018. The only sad thing? That I'll have to wait an entire year for the sequel!
---