Top 10 Tuesday is a weekly book tag that was run by The Broke and the Bookish but has now moved to That Artsy Reader Girl. Each week she provides a different bookish theme those deep-seated desires to list! Anyone is welcome to join in on their blog, in the comments or any other way. 
– Top 10 OTPs VS NoTPs –
We've been given the freedom to run rampant with this weeks T10T 'Love Freebie' prompt and, after some voting from my twitter followers, I've decided to make this week a list of my favorite OTPs versus the OTPs that I despise.
NOTPs
1. Ron Weasley and Hermione Granger
(Harry Potter Series)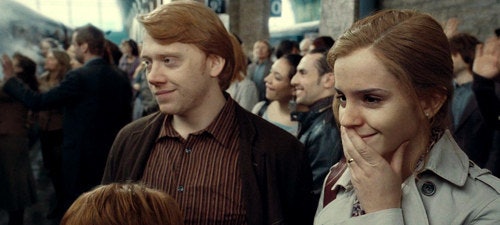 Everything about the pairing of Hermione and Ron was just NO NO NO NO for me. I was absolutely raging when they were put together in the book. From my perspective, the entire relationship was contrived to make a perfect Harry-Ginny/Ron-Hermione coupling (none of these people should have ended up together) and many of the behaviors that Ron displayed to Hermione, especially in the last book and at the Yule Ball, were downright abusive. He treats her absolutely disgustingly and I felt so sad to see an amazing female character like Hermione be forced to settle with someone who treated her like crap for the entire time they were friends.
2. Emika Chen and Hideo Tanaka
(Warcross)
I loved Marie Lu's Warcross, but I did not love the forced romance between Emika and Hideo. It was one of my least favourite things in the book. I found myself getting increasingly irritated by the amount of page time being spent on this romance that felt like nothing more than a plot-tool. I quite liked it at first but as the relationship progressed I just found it so boring and felt it distracted from the main narrative.
3. Katniss/Peeta/Gale
(The Hunger Games Trilogy)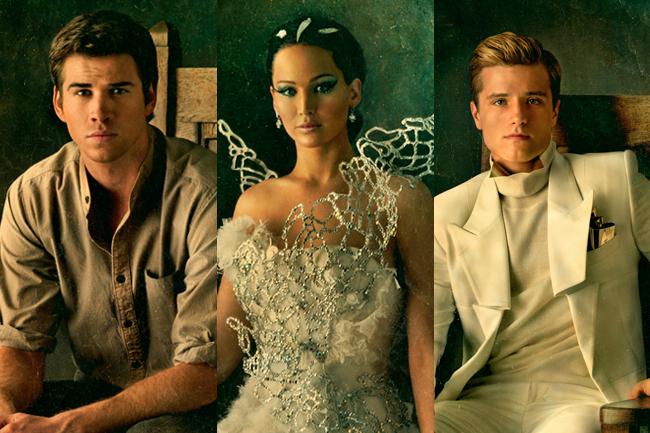 Good lord, do I hate this love triangle. I hate everything about it. I don't particularly like any of the characters and I especially don't like any of them together. I'm never a fan of love triangles (apart from ones done very well) but this really is one of the worst triangles to ever haunt my book pages. It was just all so awful.
4. Ana Steele and Christian Gray
(50 Shades of Gray)
Definitely the biggest NOTP of ALL TIME. I don't have the time, the energy or the space to even begin to detail why because there have been so many people who have been much more articulate than me on why this relationship is full of horror, abuse, and just general awfulness. It should never have been allowed to see the light of day.
5. Tris Prior and Four
(Divergent Series)
Queue longest ever groaning. If we're being honest, I'll admit that a teenie weenie part of my hate for this pairing has to do with the fact that I really like Four. The bigger part of my hate for this pairing has mostly to do with how thoroughly boring Tris is as a character. Good lord is that girl a huge Mary Sue. I just find her utterly boring, plain, uncharismatic and definitely not Four-worthy.

OTPs
1. Christina and Will
(Divergent Series)
Now, this is a good Divergent OTP. I looooveeeee Christina and Will together. I love them both, especially Christina, as individual characters and I love them even more together. It was a pairing I was totally not expecting and then when it happened I was totally not expecting to ship them so much. But they are so adorable and beautiful and everything good.
2. Aristotle Mendoza and Dante Quintana
(Aristotle and Dante Discover the Secrets of the Universe)
Definitely one of my favourite ever pairings. I can't even begin to express how beautiful this relationship is or how much I love Ari & Dante. There are literally no words for how much I love these two.
3. Elizabeth Bennet and Mr. Darcy
(Pride and Prejudice)
The first time I read Pride and Prejudice at school I hated it. I hated the book, I thought it was boring, and I thought Mr. Darcy was a stupid character. Then I sat down to read it in its entirety when I was a few years older I completely fell in love with the book (and the 2005 film). There's just something that I really love about these characters and how they come together over time. Falling in love is a lot more of a gradual progression over time, and in my experience, is always with someone unexpected. I love that this relationship really captures that experience between two unlikely suitors and is a couple that I've come to love so much over the years.
4. Sirius Black and Remus Lupin
(Harry Potter Series)
I think this has to be my OTP of all time. Both of these characters have alwayss been my favourite characters in the Harry Potter series (to the point where I even share a middle name with one of them), but I found it very hard to verbalize all my feels for them as a pairing. I'd always felt like they should be together but 10 years ago (when I was 15) I didn't even know about SiriusxRemus fanfic. It wasn't until I stumbled across The Shoebox Project when I was 17/18 that everything finally clicked into place for me and I haven't ever looked back. This is one of those relationships where I don't have the words to verbalize how their relationship makes me feel but it involves a lot of tears and happy heart feelings (no, I'm not crying, you're crying).
5. Achilles and Patroclus 
(The Song of Achilles; and also History)
Another of my all-time favourite OTPs and it's an OTP that I will never stop talking about because I love it so much. My first encounter with the relationship between Achilles and Patroclus was through Madeline Miller's The Song of Achilles which retells the story between these two lovers. It's a spectacular book and it really moved me when I read it. It was one of the first fiction books that I'd read that explicitly represented a gay male pairing in all of its various facets (friendship, love, sex, anger, despair, coming of age, conflicts) as well as the first time that I even heard of Patroclus. Too often, queer relationships are stamped on and erased in the study of History so the opportunity to see them brought alive together was amazing. The book in itself is absolutely beautifully written and the relationship that was had between Achilles and Patroclus is one that I will gladly tell over and over again until everybody knows about it.
---
I'm sure there will be lots of people who will agree/disagree with me so feel free to comment below or send me a tweet

@

RedRocketPanda to tell me how you really feel
---