I had originally written this post for yesterday's Top 10 Tuesday's 'Love Freebie' prompt. However, lots of you wanted to hear about my OTP/NoTP's for T10T instead so I thought I would save my crushes for the actual day itself! Beware, there may be butts (There definitely is butts)!
1. Dorian Pavus – Dragon Age Inquisition
Be still my beating heart. I have never had a fictional crush on any character quite like I have with Dorian. He is literally my fictional love and one of the best things (for me) about DA:I. Smugly arrogant, heartbreakingly charming, crushingly witty. Everything I love all wrapped up in a beautiful little bundle :') Somebody just needs to work on a potion to bring him to life for me now. Then everyday would be Valentine's Day.
2. Finnick Odair – Catching Fire
Smugly arrogant, heartbreakingly charming, crushingly witty, beautiful… wait… I feel like we've been here before. You'll definitely notice a theme coming out on this list. I can't help it, they just all make my knees so weak. Also, from the way he speaks about Annie in Catching Fire I bet he would be ADORABLE to spend Valentine's Day with.
3. Jack – Mass Effect 2
I've only just met Jack in my ME2 game, but she fits right into my type for girls so obvs she has to be included in this list. I haven't played ME3 yet either so can't speak for her in that, but I've heard many good things so I'm sure this attraction will endure. I imagine our Valentine's Day would be filled with blowing things up and tracking down #1 Enemies.
4. Owen Grady – Jurassic World
I mean, Chris Pratt in anything is a whole bunch of UNF but I do have a special place in my heart for Owen. Rough, dirty, rides a bike, see above characteristics… Owen has them all. Perfect.
5. Tauriel & Kili – The Hobbit
There's no way I couldn't pick both of them because as individuals they are BEAUTIFUL and crush-worthy, but as a couple, they just absolutely melt my heart to pieces. I love them both so much.
6. Keziah Delaney/Handsome Bob/Eames – Tom Hardy in Everything
I love Tom in whatever guise he's wearing because, like most of the population, I find him incredibly irresistible. Plus, the type of characters Tom plays are always right up my street…
7. Peter Hayes – Divergent/Insurgent/Allegiant 
So… Peter Hayes might not seem like the usual type of guy I would go for (he's no big burly Tom Hardy or Jason Mamoa) but he's got the exact characteristics that make me fall for guys big time and it's terrible because Peter is such an awful character. But there's just something about Miles Teller that makes me drawn to these awful male characters that he plays who are always the biggest d*ckheads. It's a really irritating type that I'm always attracted to. I am trash.
8. Rain Ocampo – Resident Evil
Michelle Rodiguez as Rain was my first ever fictional girl crush as a teenager and it started an attraction trend for (most) of my future girl crushes. Butch. Gives no fucks. Will beat you to the floor. Husky voice. etc. It is a trend that continues to this day.
9. Ronan Dex – Stargate Atlantis 
I feel like my crush on Ronan as a young teenager started another trend for later male crushes. Ronan is great and it makes me sad not that many people know him for the character anymore. He's so adorable, comforting and yet terrifying. He will slay anyone who comes after his friends but is always around for a joke when the day is done. Valentine's Day would obvs include a lot of being picked up, carried around, and buried in huge man cuddles.
10. Riddick/Toorop/Kaulder – Anyone Vin Diesel plays
Do I even need to say anything at this point?
Can't believe I forgot my Grey's Anatomy Crew, so I'm coming back to add in the ultimate babely team from the show of the most beautiful people ever.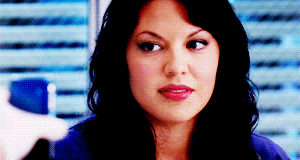 ---
Happy Valentine's Day, friends!
Tell me, which fictional crushes would you love to spend today with and why?
---