TITLE: Illuminae
AUTHOR: Amie Kaufman & Jay Kristoff
SERIES: The Illuminae Files
RELEASED: October 2015; Knopf Books for Young Readers
GENRE: YA Science Fiction
FORMAT: Library Paperback
KEY INFO: Unique story presentation, set on a spaceship, awesome AI, romance, dystopia, space thriller
REPRESENTATION: Female MC, AI side character
CONTENT NOTICES: lots of space death, gory murders, insanity
amazon // book depository // goodreads
Where do I even begin with this book?? It was amazing on so many different levels that it's hard to sit down, unpack those feelings, and actually be able to coherently review the book. Not to mention Illuminae is 599 pages so there's a hell of a lot to unpack!
Imagine breaking up with your boyfriend, having your planet invaded by a megacorporation who is trying to kill everyone you know and love, managing to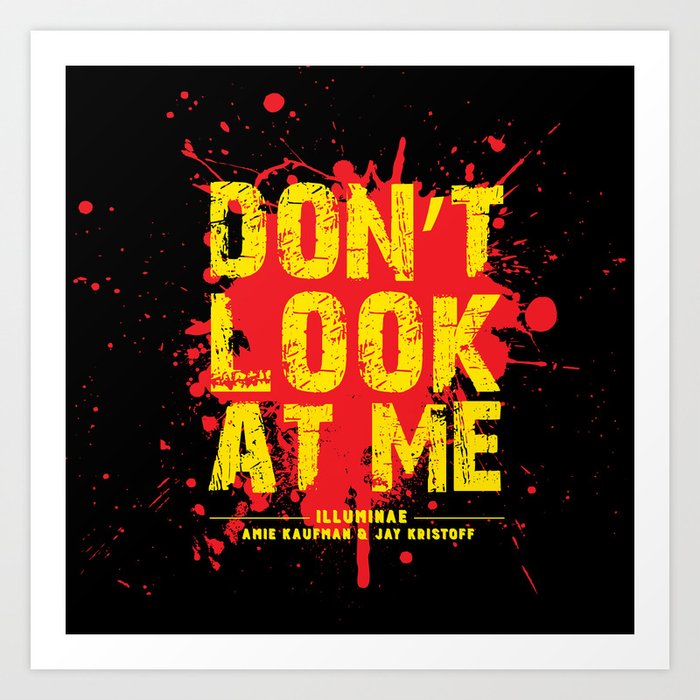 evacuate onto one of three United Terran Airships that are rescuing refugees, being chased across the galaxy by a BeiTech Industries warship who wants to destroy surviving witnesses, and having to team up with said ex-boyfriend in order to save the lives of thousands of people. Oh, and that's not to mention the terrifying plague that's rapidly spreading among the ship's human population or the overbearing AI (AIDAN) that's just trying to help.
Well, that's Illuminae in a nutshell for you and it's an incredibly butchered summary to just give you an idea of the complete chaos that lays within its pages. I went in completely blind, not knowing even a speck of information of the book and it was a hell of a ride from start to finish.
To begin with, the way that Illuminae is told is incredible and one of the main reasons why I fell in love with the book so much. Rather than being told through a straightforward narrative, Illuminae is pieced together through a hefty collection of hacked documents including emails, Instant Messages, medical reports, interviews, surveillance footage summaries, countdowns to interception, and more.
The effect that this formatting has on the reading experience is really exciting. You don't feel like a passive reader whose just reading about something, but because you're learning about what happened through the collection of documents it feels like you are actively piecing it all together and that you are a witness to something extraordinary. It set a brilliant pace for the book – leisurely but enjoyable for the first 100 or so pages but then a complete rollercoaster ride when things kick off. I found myself devouring hundreds of pages at a time and staying up way past bedtime because I just couldn't put it down. There were also so many twists and turns coming my way that I didn't want to stop reading because I needed to know what was happening next.
The advantage of the story being told like this is that you also get to experience the story from many different perspectives but in a way that's entirely different to alternating points of view narrating. Instead, we're privy to dozens of different people's accounts from our female protagonist, Kady, to the ships AI, AIDAN, and right down to the most minor characters who wrote medical reports and other important ship documents. Every single one of these characters are interesting and they all contribute to our understanding of the story. They were endearing, brave, unhinged, loveable, frustrating, flawed. The combined effect made the story really believable throughout. Also, can I just take a second to appreciate Kady because she is a complete badass who learns to do exceptional hacking during her time on board her ship Hypatia, can seriously kick ass and takes no shit from nobody. I also love books where we get perspectives from AI's. That's my jam right there.
I'm not sure what else I can say without giving anything away, so I won't! Basically, if you want a book that's super refreshing to read, an incredibly interesting and gripping story, chock full of compelling characters, and really attractive to look at then definitely pick up Illuminae. I actually cannot wait to read Gemina…
___《RESTART COMPLETE》___
__________I__________
_________AM__________
AIDAN AIDAN AIDAN AIDAN AIDAN
AIDAN AIDAN AIDAN AIDAN AIDAN
AIDAN AIDAN AIDAN AIDAN AIDAN
AIDAN AIDAN AIDAN AIDAN AIDAN
AIDAN AIDAN AIDAN …
---