As May was AAPI Heritage Month, this post is coming a liiiittle bit late but I didn't want to miss out on the opportunity to share with you all my AAPI Heritage Month reads and a quick rundown of what I thought of each of them!
Once Were Warriors by Alan Duff  –  Published: 1994, Tandem Press.
Once Were Warriors is Alan Duff's harrowing vision of his country's indigenous people two hundred years after the English conquest. In prose that is both raw and compelling, it tells the story of Beth Heke, a Maori woman struggling to keep her family from falling apart, despite the squalor and violence of the housing projects in which they live. Conveying both the rich textures of Maori tradition and the wounds left by its absence, Once Were Warriors is a masterpiece of unblinking realism, irresistible energy, and great sorrow.

amazon // goodreads // book depository
Raw, honest and powerful
Difficult read due to dealing w/ issues ranging from child neglect, violence, sexual abuse, domestic violence, alcoholism, drug abuse, suicide, crime, and murder. Content notices abound
Told in a compelling and unconventional narrative that adds to characters voices and experiences
Great character development of the female protagonist, Beth Heke, who is determined to beat her alcoholism and provide a better future for all the children in the neighborhood
An important AAPI Heritage Month read
Where the Stars Rise: Asian Science Fiction & Fantasy Anthology edited by Lucas K. Law and Derwin Mak  –  Published: 2017, Laksa Media Group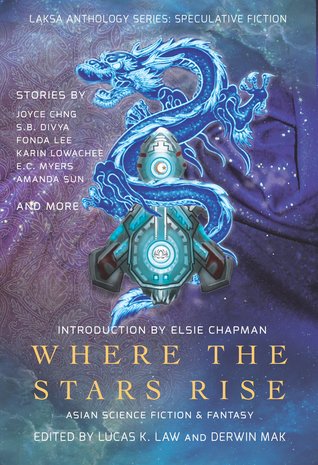 Follow twenty-three science fiction and fantasy authors on their journeys through Asia and beyond. Stories that explore magic and science. Stories about love, revenge, and choices. Stories that challenge ideas about race, belonging, and politics. Stories about where we come from and where we are going.

Each wrestling between ghostly pasts and uncertain future. Each trying to find a voice in history.

Orphans and drug-smuggling in deep space. Mechanical arms in steampunk Vancouver. Djinns and espionage in futuristic Istanbul. Humanoid robot in steamy Kerala. Monsters in the jungles of Cebu. Historic time travel in Gyeongbok Palace. A rocket launch in post-apocalyptic Tokyo. A drunken ghost in Song Dynasty China. A displaced refugee skating on an ice planet. And much more.

Embrace them as you take on their journeys. And don't look back . . .

amazon // goodreads // book depository
Fantastic anthology full of super diverse Asian SFF short stories
Challenges whitewashed sea of SFF, Asian stereotypes, and tropes
Explores themes such as cultural tradition, complicated histories, and uncertain futures, belonging and difference, and prejudice alongside a diverse array of characters from different cultures, sexualities, ages, disabilities, and citizenship status'
Favourite stories include: The dataSultan of Streets and Stars, Weaving Silk, and Back to Myan
Full review here
Legend by Marie Lu  –  Published: 2013, Penguin Books
What was once the western United States is now home to the Republic, a nation perpetually at war with its neighbors. Born into an elite family in one of the Republic's wealthiest districts, fifteen-year-old June is a prodigy being groomed for success in the Republic's highest military circles. Born into the slums, fifteen-year-old Day is the country's most wanted criminal. But his motives may not be as malicious as they seem.

From very different worlds, June and Day have no reason to cross paths—until the day June's brother, Metias, is murdered and Day becomes the prime suspect. Caught in the ultimate game of cat and mouse, Day is in a race for his family's survival, while June seeks to avenge Metias's death. But in a shocking turn of events, the two uncover the truth of what has really brought them together, and the sinister lengths their country will go to keep its secrets.

amazon // goodreads // book depository
Fun and exciting YA dystopian fiction
Switching POV between Day (sensitive, activist, hottie) and June (kickass, prodigy, looking for revenge)
Insta-love
Interesting dystopian world featuring plagues, government secrets, and a military state
Can't wait to read the sequel!
---