TITLE: They Both Die at the End
AUTHOR: Adam Silvera
SERIES: N/A
RELEASED: September 2017; Simon and Schuster
GENRE: YA Contemporary
FORMAT: Physical book
KEY INFO: #ownvoices, speculative fiction, romance, living your life like its the last day, friendships, family, acceptance
REPRESENTATION: gay Puerto Rican male MC, bisexual Cuban male side character
CONTENT NOTICES: death
amazon // book depository // goodreads
Over the past year, I have heard so many great things about Adam Silvera and how great his books are, but I never got round to reading any of them. I picked up They Both Die at the End as my first Silvera book for Pride month – and, I have to say, I have not only fallen in love with the book but also Silvera.
This book killed me

I knew that Silvera is well known for killing readers for his feels and obviously They Both Die at the End wasn't going to end well, but I really wasn't prepared for my heart being stomped all over. TBDATE is an LGBTQ contemporary YA romance between two teenage boys, Rufus Emetario and Mateo Torrez but there's a twist in the form of a company called "Death-Cast" who are able to pre-warn people on the day that they're going to die, giving them time to prepare, say goodbye and try to live an entire life in a day. Sadly for Matteo and Rufus, they both got the call around midnight and will be dying at age 17. How do you even begin to process a phone call telling you that you will die in the next 24 hours? Do you spend your last day with loved ones? Do you reach out to look for a #lastfriend via the last friend app? Do you try to cram in your entire bucket list in one day? Or would you spend the day hiding and sobbing?
They Both Die at the End is a cute as hell story which explores all of those impossible questions through Rufus and Mateo's last day on earth.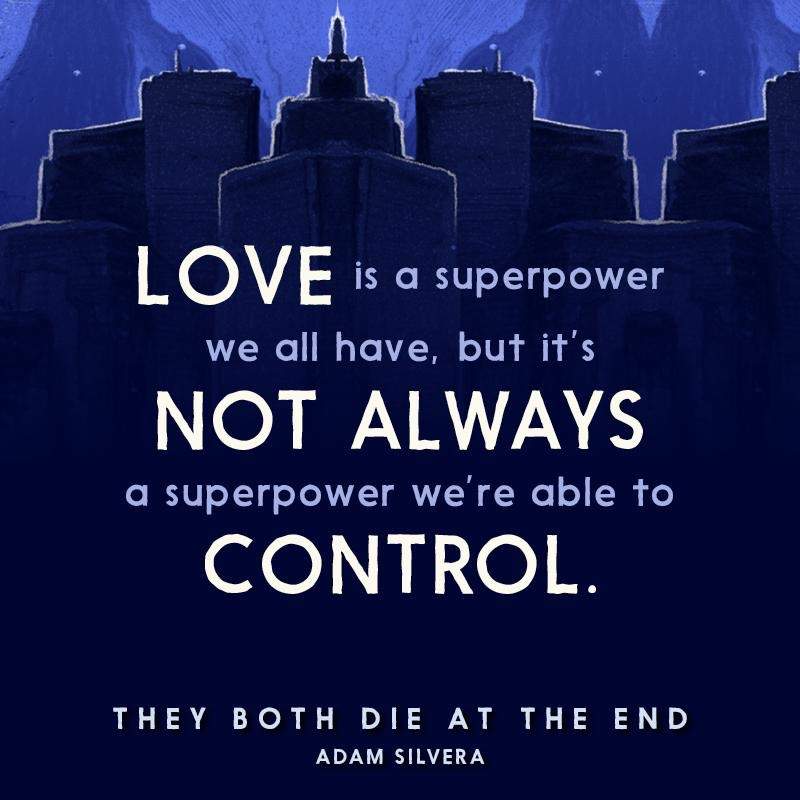 Rufus and Mateo

I think both of these boys are going to have to go down as two of my fave characters because I honestly loved them. It was so refreshing to be able to read a book where two young QTIPOC men talk about their feelings, express a variety of emotions, love their families unconditionally, talk openly and honestly, and support one another (and others).
Rufus is the obvious heartthrob of the story as he's a little bit of a bad boy who comes from a difficult past. He's had to live the last few years struggling with the fact that his parents and sister got the call and he didn't, and had to witness them dying in front of him knowing there was nothing he could do to stop it from happening. Obviously, he's angry. He's mad at the world. He's mad at his ex-girlfriends idiotic new boyfriend who runs his mouth off. He gets into trouble with the police and makes bad decisions. But he has a good heart, he's compassionate and supportive, and needs someone to help him come to terms with all of the emotions he's struggling with on his last day.
But Mateo was definitely my favourite because he reminds me so much of myself. Mateo has lived his whole life terrified of dying so he hid from the world, rejected friends, and stayed inside playing video games. He's never had a relationship. He's never traveled. And now he's out of time. Mateo is a sensitive soul who needs someone to help bring him out of his shell, discover the Mateo that has been inside all along, and have the confidence to finally show that to the world.
Worldbuilding


I have to respectfully disagree with all of the other reviewers who argue that there are massive "plot holes" in TBDATE because it leaves the reader with lots of unanswered questions about Death-Cast and how it even works. TBDATE is undoubtedly a YA contemporary but Death-Cast casts it with elements of speculative fiction as it's a technology we obviously don't have. Death-Cast is obviously an allegory which allows Silvera to explore a lot of themes like grief, death, acceptance, regret, what's important to different people, prophecies, letting go. It is a character-driven story which gives us a snapshot into the life of Rufus and Mateo, and the role that Death-Cast (and the Last Friends app) plays. It doesn't matter how Death-Cast works, or how they know. This isn't a science-fiction book and tbh I feel like going into all of the in's and out's of how the entire thing even worked would have ruined the entire story. What's important is how it brings people together, what decisions they make, how they choose to live their last day… It's about the people and their lives, not the technology.
Final Verdict

I honestly couldn't put this book down even though I knew I was hurtling towards heartbreak like a train but I loved every minute of it. Silvera's writing is very emotive and really absorbs you into the world that he has created, and I found myself completely falling in love with Rufus and Mateo's relationship. Every time I picked up the book I felt like I was living a whole other life through the characters and really experiencing a journey as the story progressed. As I said, this was my first Silvera book and it definitely won't be my last!
---