Hey everyone!
Sooo… I know it's not Monday but we moved into our new house on Monday and we just got our internet set up today! I haven't been around much over the past week or so as everything was complete chaos with trying to get all of the new house paperwork done on time, finish all the packing, working at the weekend, moving out, moving in, unpacking everything… It's been exhausting!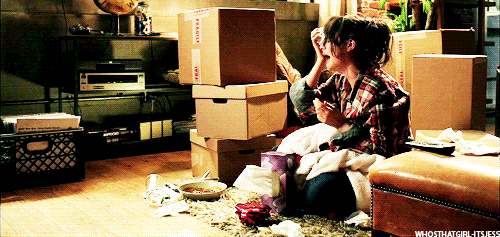 Thankfully, everything has finally settled down and we only have about 10 boxes left to unpack so we're almost finished moving in. Most of my books are back on their shelves and the computer is all set up which are all the most important things anyway lol. I wanted to just drop by to let you all know where I went. I know it hasn't even been that long but I have honestly missed blogging. I will be returning next week though with some new reviews and posts, but for now, thought I'd share with you all some pictures of our new house and my first ever haircut in 4 years!
New House
New house before furniture!
Kitchen
I haven't taken any more pictures yet because when I'm not unpacking I'm either reading in our new garden or sleeping! I have never lived in a house with a garden before so being able to read in the garden has been amazing, I am basically like a little flower who needs the sun, and it's been fantastic to finally have a garden for Achilles to run around in ❤
New Hair
This week is full of new beginnings. After 4 years of being too afraid to go to the hairdressers, I finally got my hair cut at a queer barber's thanks to my partner. I have been wanting to get my haircut for the past year, but get so anxious about people touching my hair and the difference a haircut can make to your entire image that I have just avoided it all this time. I have never been so happy with a haircut though and it's really helped with my anxiety around haircuts.
The before picture is from this morning when my hair went down to my hips, the after is from this afternoon where my hair has been cut up to my upper chest and I have a faded undercut on the right side – much easier to cope with and so much breezier ❤
That's all for now – hope you're all doing well and can't wait to get back to blogging next week
---