TITLE: Trans Teen Survival Guide
AUTHOR: Owl and Fox Fisher
SERIES: N/A
RELEASED: September 2018; Jessica Kingsley Publishers
GENRE: Non-Fiction
FORMAT: Paperback
KEY INFO: advice book for young trans people, transitioning, resources
REPRESENTATION: non-binary, trans men, trans women
CONTENT NOTICES: use of explicit sexual terms when talking about sex, in-depth information about surgeries and surgical techniques, illustration of a needle and pills (p88), diagram of intermuscular injection (p86)
amazon // book depository // goodreads
Trans Teen Survival Guide is a nice, easy to read guide for young trans people which brings together all of the 'need to know' information in one place. The guide neatly sets out the information in relevant chapters, making it easy to find for anyone who wants information on specific topics, and gives a fantastic overview of everything from working through feelings of gendered difference, coming out (or not), clothing, and self-acceptance, to dysphoria, puberty, hormones, and surgeries, and even includes guidance on dealing with the media, documenting your journey, self-care, and further resources.
What I Loved
Growing up as a teenager 10-12 years ago, information like this could only be accessed in two ways – through knowing other trans people who happily gave advice to younger trans folk and/or by finding it on random corners of the internet. One thing I love about Trans Teen Survival Guide is that it brings together all of the information in one place. I was very lucky to live in London and had easy access to LGBTQ+ youth groups where I could find all of this information out, but others who don't have these support networks often have to search through numerous articles, websites, and online support groups to compile it all together. Having it in one book makes finding out the right information much quicker and is more reliable/safer than some of the information out there!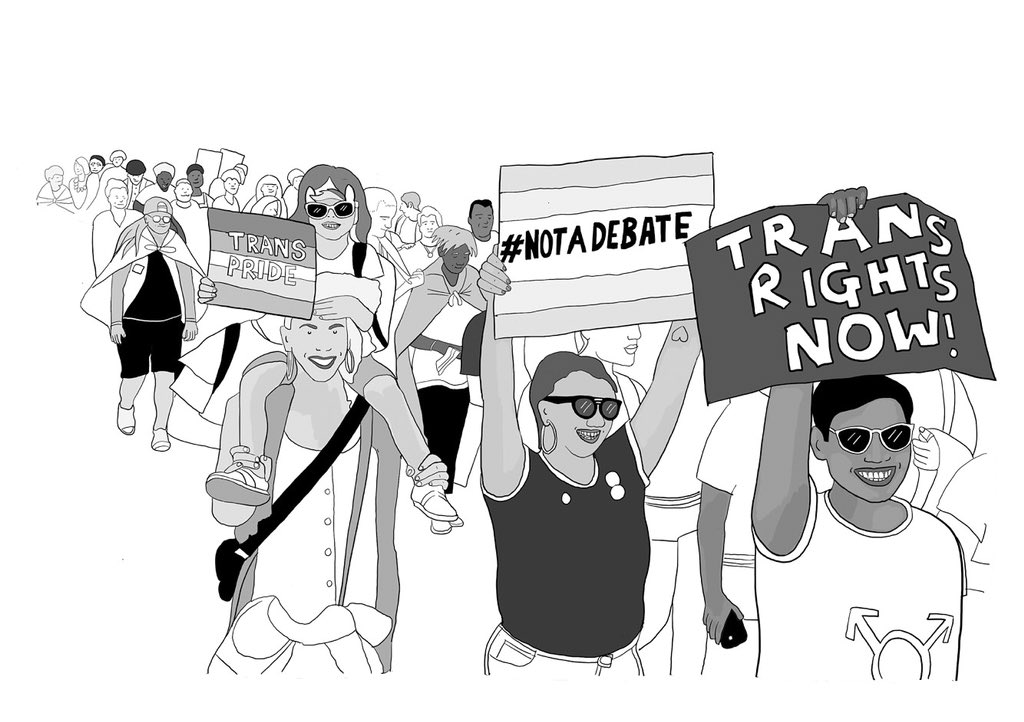 The addition of illustrations and personal stories also gave this guide a nice touch. I've found that books written for trans people can err on the side of giving more information out about one type of trans person over others, but I felt that Trans Teen Survival Guide did a pretty good job of including trans women, trans men, and non-binary people. In my own life, I've always found that hearing about the experiences of fellow trans people validating. By including these touches, it helped to lift the book from a generic advice guide to something much more personal and relatable. It was also really lovely to read a book about being trans that went to great lengths to empower its readers through validating trans peoples feelings and experiences, whatever they are. It's so important that young trans people are shown that there is no one way to be trans and that everyone is welcome under the umbrella.
Lastly, terminology and advice in the book are broken down to make it more accessible, which is especially important given that this is a book supposed to be for young people. Coming into contact with the swell of trans terminology for the first time can be overwhelming and confusing, but everything here is explained simply, laid out under subheadings, and accompanied by illustrations which break up the information.
Room for Improvement
Similarly to other trans reviewers though, I felt that there were definitely some elements of the book that could have been improved. In some cases, I also felt that the inclusion/lack of inclusion of particular information resulted in some problematic aspects of the book.
Living Stealth 
The concept of living stealth is something which is still hotly contested within the trans community. For some, the idea of living 'stealth' (where no one but close friends and/or family know you're trans), is a sign of shame of being trans. Others recognize that trans people have the right to live their lives how they want and there are many reasons for living stealth, such as for safety and survival.
At first, I felt that the authors did a good job of explaining why some people need to live stealth and challenging the stigma attached to this. However, after seemingly validating trans people who live or desire to live stealth, the section then ends by saying that if you are supported by friends and family then it's easier to be "out and proud", and that being "proud of yourself" can inspire others. No trans person should feel like they're only allowed to live stealth if it's not safe for them to be out and that if they're surrounded by supportive people then they should be out. It proposes the idea that those who are stealth are ashamed of being trans and that they're missing out on opportunities to inspire others. Living stealth does not mean that you are not proud of being trans.
Who is the Target Audience?
Although this guide is marketed as being for trans TEENS, the information included in the book and the way it was spoken about made the actual audience of the book become very unclear. I personally regard 'teens' as being from 12-18 years old, but it's never clear exactly what the target age range is. There are times when the writing comes across as though the authors are speaking to very young trans people, around the 11-13 age range, but then the book also includes explicit language in some of the chapters when talking about sex and labels for your own body (for example, referring to sex as f*cking, and vaginas as p*ssys) which I personally found uncomfortable. On the section on dating, there is a massive focus on dating apps and the ones listed are almost overwhelmingly 18+ which aren't appropriate or necessary for young teens. There is already a huge issue around vulnerable, young people using 18+ dating sites where they are at risk of harm from adults and I felt that it wasn't a good idea to focus almost solely on 18+ dating.
An Overemphasis on Media & a Lack of Information on Serious Survival Issues
This final point is the one that concerned me the most. In this guide, there are 13 pages devoted to 'dealing with the media' but no information or advice is given around transphobic bullying or homelessness. Whilst I recognize that the authors have a background in the creative industry, they also have extensive experience as trans rights campaigners so I think that this was a rather large oversight on their part. Below I've outlined some further feelings on the matter:
Fox and Owl state that 'at some point, every trans person will be approached by the media'. The amount of trans people I know who have been approached by the media pales into insignificance next to the number of trans people, myself included, who have experienced bullying and/or homelessness.
According to Diversity Role Models, two-thirds of LGBTQ young people are bullied at school and LGBTQ youth are six times more likely to attempt suicide. No information or advice was given around bullying, what to do if you're being bullied, or signposted to organizations who would help.
If you're going to tackle the issue of 'survival' when talking to young trans people, there is no way you can do it without talking about homelessness. I was kicked out by my mum at 18 years old and disowned by the rest of my family after coming out as trans. This is a very common experience for young trans people. Again, there is no real information given about homelessness (other than a very brief sentence) and no signposting to organizations such as Stonewall Housing or the Albert Kennedy Trust for any young trans people who find themselves in this position.
Writing this review has been difficult for me. I usually always try to concentrate on the positives when reviewing and especially love to provide platforms for trans books written by trans people. I wanted to be able to give this book a shining review, but I felt it important to spend time discussing issues I had with some of the information in/not in the book. In order to have secured a four or five-star review from me, Trans Teen Survival Guide, definitely need to spend a little more time talking about some of the survival issues that young trans people are living through right now. I think that are definitely fantastic elements to Trans Teen Survival Guide, as outlined above, and it offers a useful overview for young trans people who are finding their feet.
About the Authors
Fox Fisher is an award-winning artist, film-maker and prominent trans rights campaigner. They co-founded the immensely popular film project My Genderation, and have appeared on national TV shows and documentaries. Fox co-created the children's book Are You a Boy or Are You a Girl?
Owl (Ugla Stefanía Kristjönudóttir Jónsdóttir) is a trans campaigner, speaker and writer. They've worked extensively on trans rights across Europe and advocate for trans rights on national TV and radio as well as writing articles for various media platforms. They co-run My Genderation and are an advisor for All About Trans.
My sincere thanks go out to Jessica Kingsley Publishers for providing me with an advanced reader copy of Trans Teen Survival Guide in exchange for an honest review. The book celebrated its release day on the 21st September 2018 and is now available for purchase.
---