So, I know it's now Friday and not Thursday but I am honestly so behind on everything this week, so play along with me and pretend it's still Thursday? As its Sci-Fi Month, I wanted to do a Sci-Fi inspired book tag but couldn't find one that I liked. As Sci-Fi Month has a great photo prompt challenge going on for this month, I thought I would adapt it into a book tag so that a) I could do a book tag and b) because I keep forgetting to do a photo for each daily prompt!
The prompts are by the wonderful imyril and deargeekplace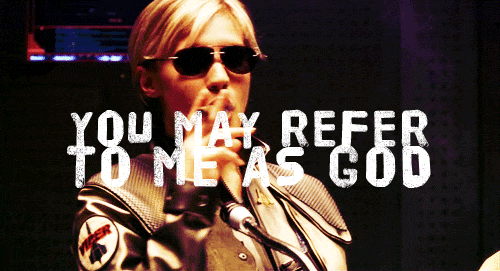 1. Sci-Fi Month TBR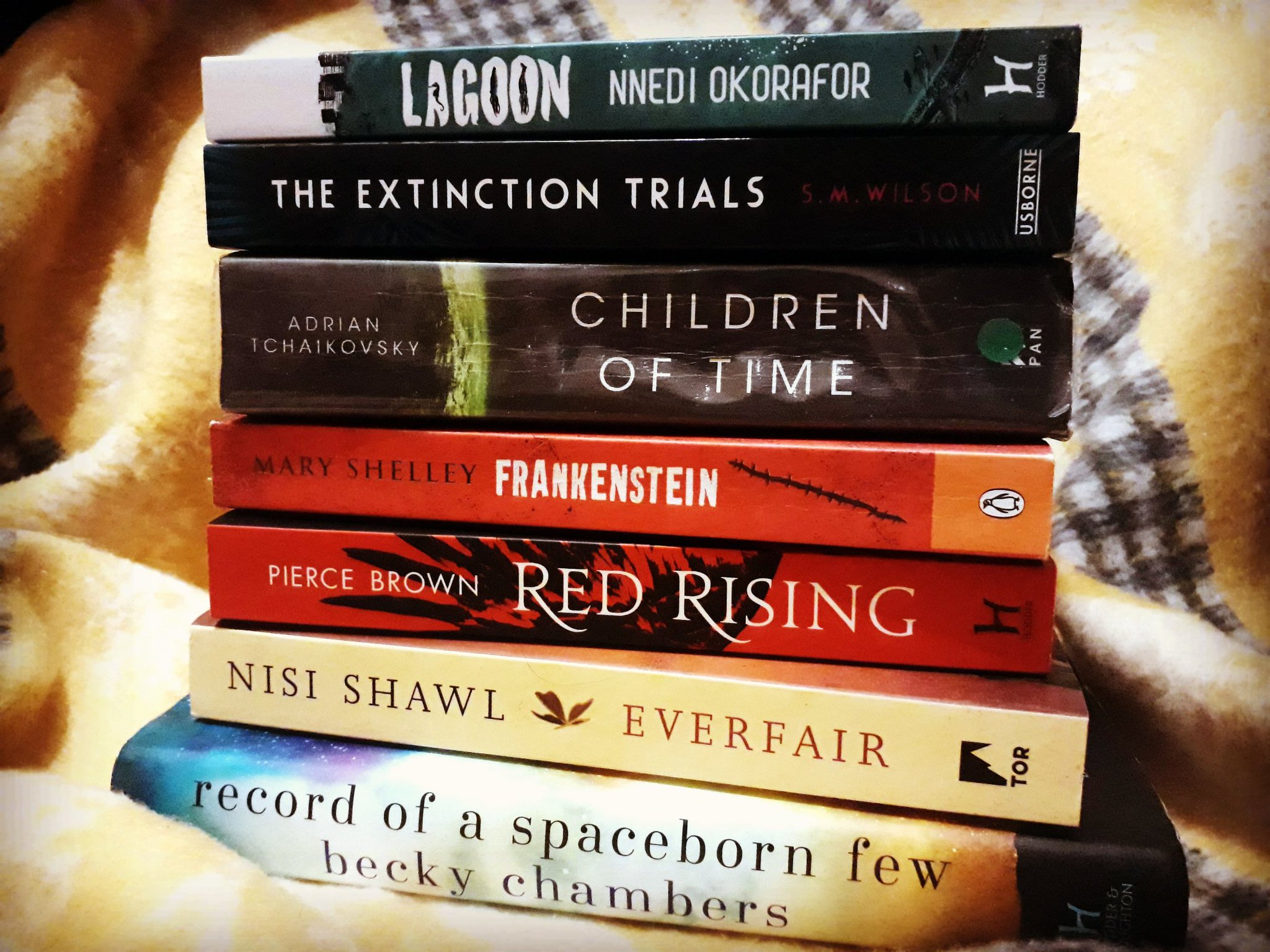 This is the only prompt I've managed to do so far and even then it was 4 days late ;D As Sci-Fi Month wasn't on my radar I hadn't planned any titles but luckily already had lots of sci-fi titles on my #mythothon TBR so have been able to combine the two! So far I've read Frankenstein and am now reading Red Rising.
2. First SF Read
What got you into SF?
In my How I Met the Genre: Science Fiction post, I spoke about how although I really loved sci-fi movies as a child/teenager, it took me a long time to start reading sci-fi books. If I remember correctly I think the first sci-fi books I properly read was the Lost Tribe of the Sith collection!
3. Man's Best Friend (in Space)
Anniversary of first dog in space

This prompt combines two of my favourite things – science fiction & animals. What could be better than reading a book with both of these things?! I've had my eye on An Oath of Dogs and Children of Time for a long time, and love how they both incorporate animals into sci-fi in really interesting ways.
4. Fave SF Series

Trying to pin down one series for this is super hard because there are so many SF series that I adore. If I was forced to choose only one though it would definitely be Becky Chambers Wayfarers series (no surprises there) because the entire series is just a complete gift to this earth. Other fave SF series though include The Illuminae Files, Xandri Corelel (Failure to Communicate, etc), and Planetfall.
5. Gunpowder, Treason, and Plot
Bonfire Night

I'm currently reading Red Rising and it is so perfect for this prompt. I'm not sure what I was expecting from this book but it definitely wasn't something as interesting and explosive as its plot! If you like series like The Hunger Games and Divergent but wanted something more well-written, original and complicated then this is the book for you!
6. Race You There
The Melbourne Cup – racing/vehicles/sports

I loved how Marie Lu brought competitive e-sportsesque gaming to the world of science fiction and couldn't think of another book more perfect for this prompt! I haven't read Wildcard yet, but really enjoyed all of the gaming aspects of Warcross.
7. Dream a Little Bigger Darling
Although there were a few plot holes that bothered by about the first installation of the Binti series, overall I loved this book. Nnedi Okorafor is such a brilliant writer and I loved this little tale Binti, a young woman who is the first of the Himba people to leave her home and go to university. In just 96 pages, Nnedi manages to pack in so much complexity and I definitely can't wait to read the next book.
8. Can't Wait to Read
I am absolutely dying to read The Murderbot Diaries and am kicking myself over the fact that I didn't catch these when they were first released. The entire thing sounds so up my street and I've heard amazing things about the entire series.
9. Unity & Freedom
Anniversary of the fall of the Berlin Wall

Corruption, resistance, killer AI, and kick-ass teens who expose said corruption in the Illuminae Files to achieve unity, justice, and freedom. This series is honestly so perfect and I love it.
10. #StackSaturday
TBC
I'm going to the SFX Book Con 2 this Saturday (tomorrow) so I will retroactively insert whatever little book stack I may/may not end up with 😉
11. Lest We Forget: Fallen Heroes
Speaking of the Illuminae Files, let us never forget that our own wonderful Destiny of HowlingLibraries (among many other book bloggers) were casualties of Amie Kaufman and Jay Kristoff's intergalactic violence!
12. Best Ship in the Galaxy, Kid
At first, I answered this prompt with the Wayfarers series because I love the actual science involved in those books. But as this prompt is about celebrating the anniversary of the Rosetta's modular landing on a comet I thought a much better option would be Neuromancer as Gibson's work had such a profound influence not just on science fiction but on real-world scientific and technological developments!
13. Alien Antagonists 
A bit of a cheeky answer because it's not a book, but there's no way I couldn't say Battlestar Galactica for this one! I'm still on Season 2 though so no spoilers!
14. Explore New Worlds
There's no better way to explore new worlds than with an amazing SFF anthology! 2018 has truly been the year of the anthology for me and I've loved being able to explore so many different places within one book.
15. Book Rainbow
I'm not sure if this was what was meant by the prompt but I take any opportunity to make a good rainbow book spread!
That's it for the first part! As there are 30 prompts for 30 days I've split it into two parts to spread the sci-fi love throughout the month ❤
Please tag me if you want to come up with your answers and, of course, the wonderful Sci-Fi Month hosts who came up with these prompts.
---