TITLE: Music in Disney's Animated Features: Snow White and the Seven Dwarves to The Jungle Book
AUTHOR: James Bohn
SERIES: N/A
RELEASED: March 2017; University Press of Mississippi
GENRE: Non-Fiction
FORMAT: e-Book
KEY INFO: academic, Disney music during the Walt Disney era, music theory, Disney composers
REPRESENTATION: n/a
CONTENT NOTICES: n/a
amazon // book depository // goodreads
In the first episode of the Disneyland television series, Walt Disney states: "During the last few years, we've ventured into a lot of different fields. We've had the opportunity to meet and work with a lot of wonderful people. Our only hope is we never lose sight of one thing: that it was all started by a mouse." The statement is not entirely accurate. It started with music… The first film that I ever went to see at the cinema was The Lion King released in 1994 when I was two. My nan's husband, who took me to see it, recounted that I was so small that I kept falling down the back of the seat and he had to spend the entire movie holding the seat down for me but that I didn't make a peep because I was so completely enraptured with what I was seeing. 23 years later that's as true today as it was then. The Disney animated features and, in particular, Disney music has held such a special place in my heart and I continue to take every chance I have to learn more about the rich world of Disney. Despite my small collection of Disney books already, I had noticed something, which James Bohn elaborates upon in the book, that although there were many books that filled my TBR pile on Disney's animation and representation in the films, there were hardly any books about Disney's music. This seems incredibly odd given the centrality of music to the Disney films and their success. So, when I came across this on NetGalley I knew I needed to have it and I'm so thankful that the wonderful University of Mississippi Press approved me for it!
Music in Disney's Animated Features is expertly written, fascinatingly engaging, and thoroughly covers its subject. Bohn guides us right from Steamboat Willie all the way up to the last animated feature that Walt Disney was alive to oversee; The Jungle Book. The book is well-laid out in a way which deals with each movie in turn and each chapter introduces us to the film, the colourful characters who wrote the music that we love, provides us with an interesting analysis of the features music alongside excerpts of sheet music, and gives an overview of the film's reception and any re-recordings of the features music.
As a composer himself, Bohn is able to expertly write about a number of the techniques used by Disney including 'Micky Mousing', leitmotifs, rhymed dialogue transition, song archetypes, and the use of music to establish character, reveal plot and further narrative. I am not musically gifted in the slightest – I cannot play any instrument or sing, let alone read sheet music or understand complex musical techniques – so some of Bohn's discussion around these areas went straight over my head. However, because of the way that the chapters are easily laid out with identifiable subheadings, it is easy to skip ahead anything too technical without missing out on anything important. Bohn also provides enough interesting material around the technical analysis which keeps the book interesting for non-musical readers.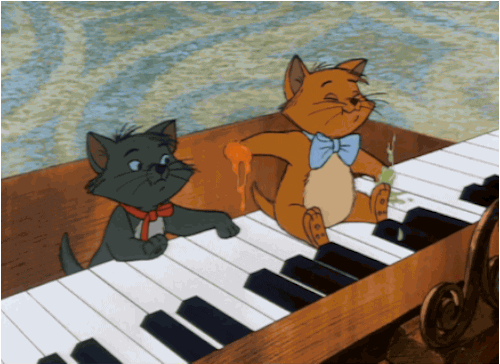 One of the things that I loved the most about this book though is how central Bohn casts the rest of the Disney staff. It is made clear at multiple points throughout that this book is not just about the talent of Walt Disney and his legacy, but it's also about the numerous contributors whose blood, sweat and tears made Disney into what it is today. After a brief introduction to the film itself, each chapter includes a substantial biography of one (or two in the case of the Sherman Brothers) songwriters, composers, and musicians who worked on the feature. This biographical element is not tacked onto the end of the chapter nor hidden amongst the rest of the chapter but is given pride of place right at the beginning of the chapter with a subheading devoted to the individual.
I think this is really something that makes Music in Disney's Animated Features stand out. Through his use of quotes from family members, workers and archived material from Walt, Bohn goes to great lengths to make this book personal. He constructs a narrative in which Disney is not this huge abstract corporation, but that it is the sum of all of its talented members of staff who work tirelessly to create showstopping films and which celebrates their achievements.
The only criticism that I had of the book was that the ending chapter felt quite rushed. Whilst it is not unusual for some of the chapters to be divided between two animated features, the last chapter on The Sword in the Stone and The Jungle Book also had to share its last pages with a conclusion. I felt that this really squashed in a lot of important information about Walts death, changes at Disney regarding animation and staff, and the importance of music in a way that detracted from some very powerful messages about the direction that Disney has been going in post-Tangled. It would have been much better for there to have been a small concluding chapter to really hit home Bohn's points.
Overall, this is definitely a must-read for any fans of Disney and/or Disney music and Bohn's book is an excellent addition to anyone's bookshelf. And I am completely here for any further books which deals with post 90's Disney music!
The essence of a Disney animated feature is not drawn by a pencil, pen, paint, or pixels… it is written in notes. 
---

GOODREADS / TWITTER / INSTAGRAM /